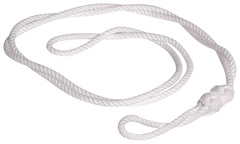 Sea Scout Lanyard
The Sea Scout Lanyard is worn around the neck and plaited into the scarf to designate that the wearer is a Sea Scout and differentiates them from the 'Land Scouts'
One end has a fixed small loop to be attached to the shirt button hole, the other has a slip knot to adjust to the neck size of the wearer.
Sometimes the bosuns call is attached to the small loop and kept in the shirt pocket.
This lanyard is used as a Patrol Leader lanyard in some Branches
THIS ITEM IS OUT OF STOCK DUE TO OUR SUPPLIER GOING OUT OF BUSINESS. IT WILL BE UNAVAILABLE INDEFINITELY WHILE WE SOURCE A NEW SUPPLIER.
We have been unable to source anyone in Australia to supply this item and now looking off shore. If you know of a source we can talk to please contact us! In the meantime... it is not looking good for Sea Scout Lanyard supply...