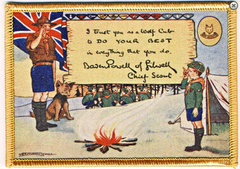 Heritage Scout Wolf Cub Promise Blanket Badge 
The Heritage Wolf Cub Promise blanket badge is inspired by an image from the Gilwell Archives, and is part of the Heritage range of product.
Product Information
The image is based upon a Cub Scout making his promise. The writing and signature are by Lord Baden-Powell. This is an item for collectors or can be sewn on to your blanket or poncho. The definition of the badge is very clear as it is made using a heat transfer print process, allowing for fine detail to be reproduced clearly on a cloth badge.
Product Specification
Type: Heat Transfer
Size: 10x7cm