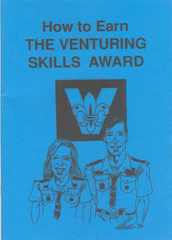 Venturing Skills Award Booklet
The Venturing Skills Award is the first badge a Venturer Scout must achieve in the process of completing their Queens Scout Award. It ensures Venturers are equipped with all the basic camp skills to be able to (safely!) make the most of the outdoor activities that they will participate in during their time in Venturers.
The Venturing Skills Award Booklet is designed help Venturers achieving this badge by providing suggestions and tips on all things camp craft! It includes equipment lists, hints on properly packing a hike pack and pitching a tent, suggested camp food lists, sample hike menus, as well as advice on fire lighting, mapping, knots, first aid and meeting the requirements of the award scheme. It's the go-to booklet that all new Venturers (and their leaders!) should get their hands on!