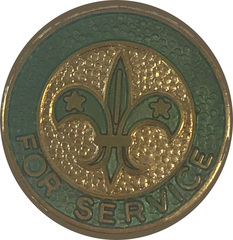 For Service Lapel Pin
This is a small 17mm diameter green and gold lapel pin is an ideal pin to present to parents and other members of the community who provide an outstanding level of service to your Group.
It is finely cast and gold plated and the green background colour has a lustrous marbled effect.
It does not come with a gift box as it should be pinned onto the recipient at the time of presentation.
It is not an official Scouting award.