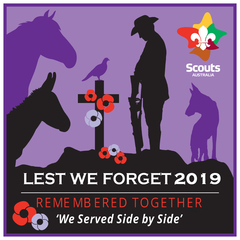 2019 Lest We Forget Swap Badge PRE ORDER
**PRE ORDER - Dispatch from the 1st April**
All other items ordered with this badge will be delivered after the 1st April unless requested otherwise in delivery instructions on the order.
2019 Lest We Forget Souvenir Scout Badge
Great badge to give your members who were involved in Anzac Day.
Woven badge, die cut and overlocked
Approx 75mm
This badge is a swap or blanket badge and may not be worn on the uniform.